You are Samina Zaveri, Class X, Vadodara, Gujarat. You come across the following information on a local library's notice board.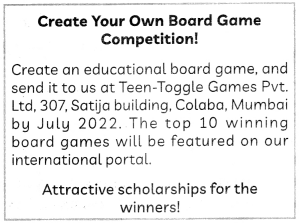 You wish to participate but require more information. Write a letter to Teen- Toggle Games Pvt. Ltd. in about 120 words, enquiring about rules, scholarship details and deadlines. Also enquire about specifications for solo or group entries. (5)
Class 10 letter sample
Samina Zaveri
Class X, Vadodara, Gujarat
July 3, 2022
The Manager
Teen-Toggle Games Pvt. Ltd
307, Satija Building, Colaba
Mumbai
Subject: Need more information regarding the board game competition
Dear Sir or Madam
I came across your board game competition advertisement on the notice board of a library in Vadodara. I would like to participate in this competition; however, I need more details regarding the rules. Is there any age limit for the participants? What about the theme? I know it should be educational but is there any specific theme? Also, do you accept both solo and group entries? My sister and I are both interested in this competition. Can we together create a board and send it to you?
I would also like to know more about the scholarships.
Kindly provide these details at your earliest convenience so that I can send in my entry.
Thank you for your consideration.
I look forward to hearing from you.
Sincerely
Samina Zaveri