Welcome to the review of ParaphrasingTool.ai. The tool has captured the attention of learners all around the world in a short period. It is now extensively used in the sphere of academic writing to enhance writing skills and deliver stellar content.
I, being an academic content writer, was tempted to try this tool and see what it has to offer to students and academic writers. I have been leveraging this tool for a considerable period and am eager to share my insights and experiences.
Here, I will uncover its versatile tools, and discuss its real-time applications in academia. So, without any further ado, let's dive into the comprehensive review of ParaphrasingTool.ai, focusing on its applicability and benefits for students!
Paraphrasingtool.ai: What does it offer to students?
ParaphrasingTool.ai is a powerful set of tools tailored for students. I was impressed to see the multiple tools for students that it offers. The primary tools offered by ParaphrasingTool.ai are incredibly valuable for students, and the ones highlighted in the "Students' Saviors" section are specifically designed to assist students and academic writers.
Here's a quick rundown of what it brings to the table:
Paraphraser
At the heart of ParaphrasingTool.ai is its highly effective rewriting feature. It takes your text, understands its context, and restructures it to present the same meaning uniquely.
Plagiarism Checker
In the academic world, originality is key, and ParaphrasingTool.ai recognizes this. The plagiarism checker scans your text to detect any sign of duplication. By using this feature, students can be confident in presenting their work, knowing it's free from plagiarism.
Grammar Checker
A neat addition to its suite of tools is the Grammar Checker. No more fretting about grammar rules or overlooked typos. This tool automatically detects and suggests corrections to grammar errors, enhancing the overall readability of your text.
In addition to these core features, ParaphrasingTool.ai also provides some additional tools for students, such as:
Essay Writer: For students struggling with college essays or long-form articles, this tool is a lifesaver. It generates unlimited essays on demand, taking a lot of stress off your plate.
Story Generator: This tool taps into creativity, creating random, innovative, and fictional short stories. It's perfect for those assignments where you need to let your imagination run wild.
AI Research Assistant: Working on a thesis can be daunting, but not with the AI Research Assistant. This feature helps you research your thesis effectively, making the process smoother and more manageable.
Thesis Statement Generator: Crafting a potent thesis statement has never been easier. This AI-powered tool helps you develop compelling thesis statements, setting a strong foundation for your academic work.
In a nutshell, ParaphrasingTool.ai offers a comprehensive suite of tools designed to make academic writing more efficient and less stressful for students.
How To Use This Paraphrasing Tool for Research Writing?
Using ParaphrasingTool.ai is a straightforward process that can significantly aid students in writing research papers, essays, or any other academic assignments. Here's a step-by-step guide on how I used it to rephrase a piece of text from a research paper.
1.    Begin with Your Draft
Start by writing a draft of your research paper or essay. This will be the raw material you'll refine using the paraphrasing tool. Don't worry too much about the phrasing or grammar at this stage – just focus on getting your ideas down.
Example: Let's say you are writing a research paper on climate change, and you've written a rough draft of a paragraph about the impact of rising temperatures on polar ice caps.
2.    Use the Paraphrasing Tool
Once you have your draft, go to the Paraphrasingtool.ai website. Paste a section of your text into the text box of the Paraphraser.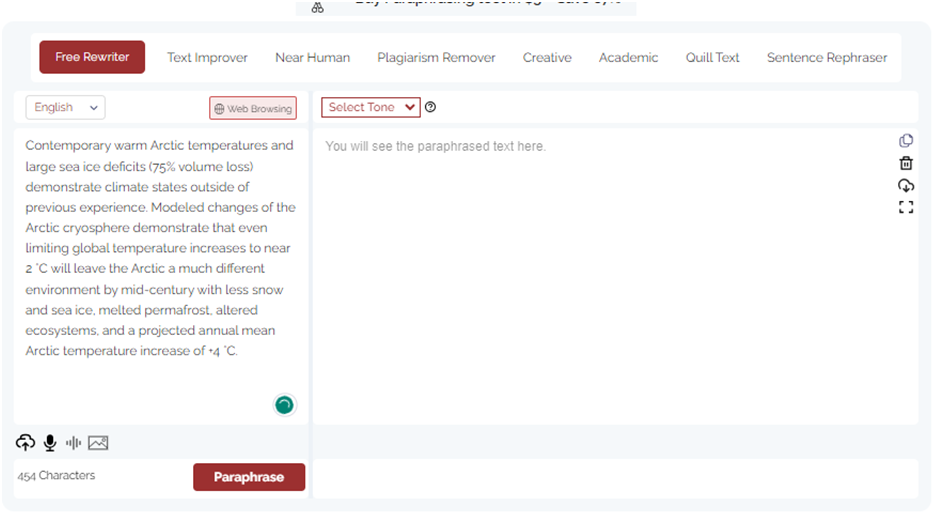 3.    Choose the Appropriate Mode
Select the paraphrasing mode that suits your needs. For academic writing, you might choose the 'Academic' mode.
4.    Paraphrase
Click on the "Paraphrase" button, and the tool will provide a paraphrased version of your text. This should maintain the original meaning while improving readability and variety in your writing.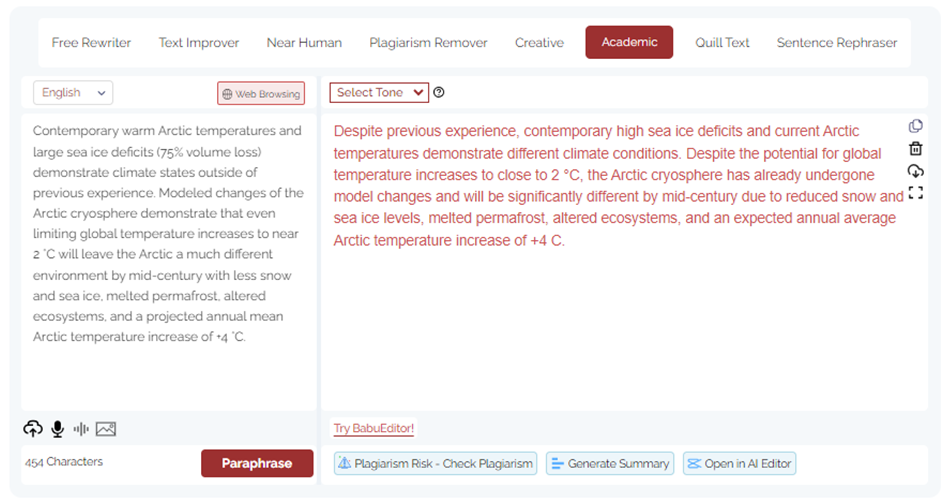 5.    Use the Plagiarism Checker
If you've included any quotes or closely paraphrased material in your paper, you can use the built-in plagiarism checker to ensure your work is original. Copy and paste your text into the checker, and it will alert you if any sections are too similar to existing sources.
Here the paraphrased text was 100% original.
6.    Check the Grammar
Before you finalize your paper, use the AI Grammar Checker to scan your text for any grammar or punctuation errors. This tool can catch mistakes that might be missed in a quick read-through.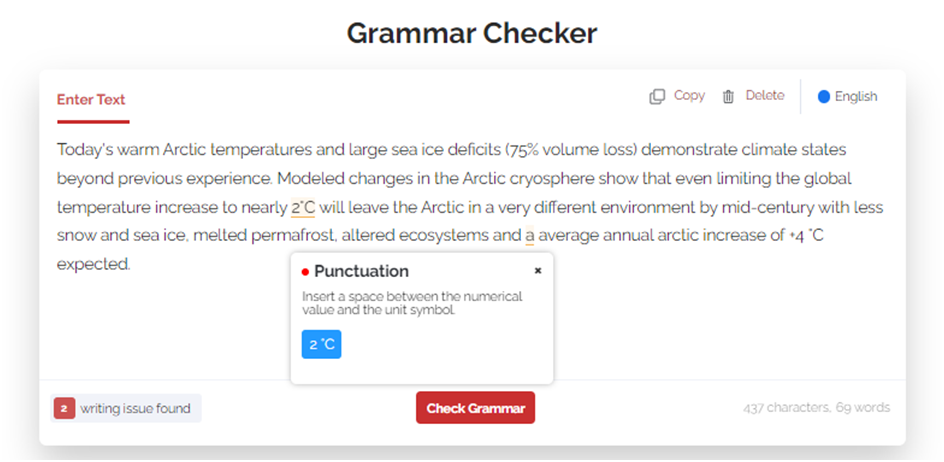 7.    Repeat
Repeat these steps as needed for each section of your paper. Once you're done, you should have an original, and grammatically correct research paper.
Write an essay using AI Essay Writer
Creating an Essay with Paraphrasingtool.ai's AI Essay Writer is an easy process. The tool is completely free for students and generates essays in one click. I was impressed the see the quick results. Follow these steps to write an essay with this tool.
Visit the Website
Type in "paraphrasingtool.ai" in your browser's search bar and hit enter. This will direct you to the official site of Paraphrasingtool.ai.
Select the Essay Generator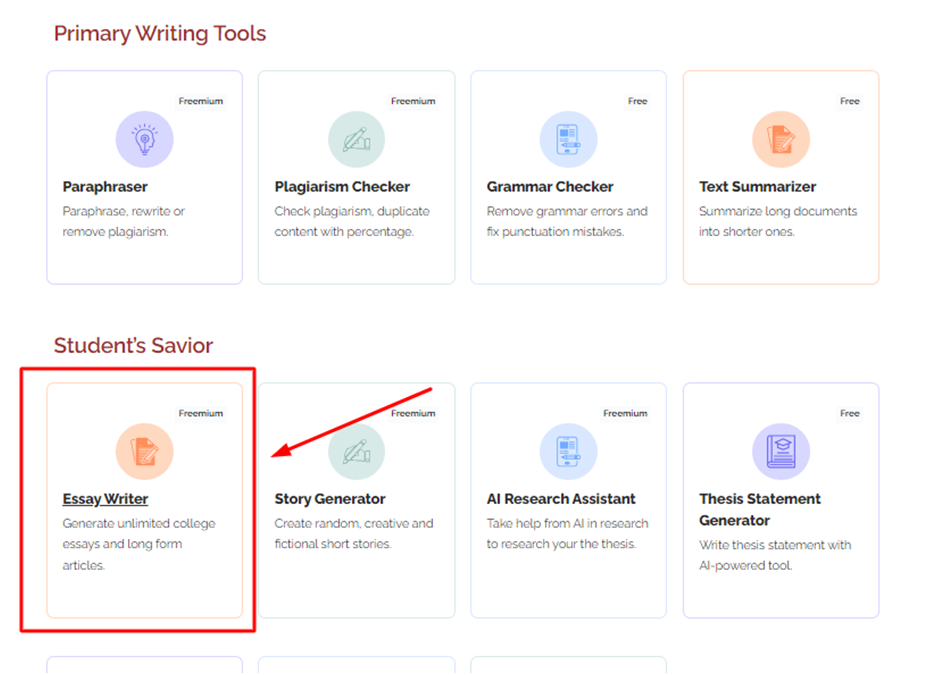 On the Paraphrasingtool.ai website, you'll find several tools. Look for the option labeled 'Essay Generator' and click on it.
Input Your Essay Title
Now you've reached the part where you input information. You'll see a bar where you can enter the title of your essay. Be sure to input a clear and concise title that represents what you'd like your essay to discuss.
Generate Your Essay
After inputting the title, click the button labeled 'Generate Essay.' The AI will now do its work, and in a few moments, you'll have an essay tailored to your title.
AI Editor
AI Editor, the premium version of essay writer, has additional options to fine-tune your essay.
You can use the 'Rephrase' function for improving flow and readability, 'Simplify' to make complex sentences more understandable, and 'Expand' to add detail where needed.
You can turn text into 'Bullet Points' for clarity. The 'Examples' feature helps illustrate points. Use 'Explain' to elaborate on complex ideas. 'SubTopics' helps with essay structure. Finally, 'Change Tone' lets you adjust the mood of the essay. Each feature enhances the essay writing process in its way.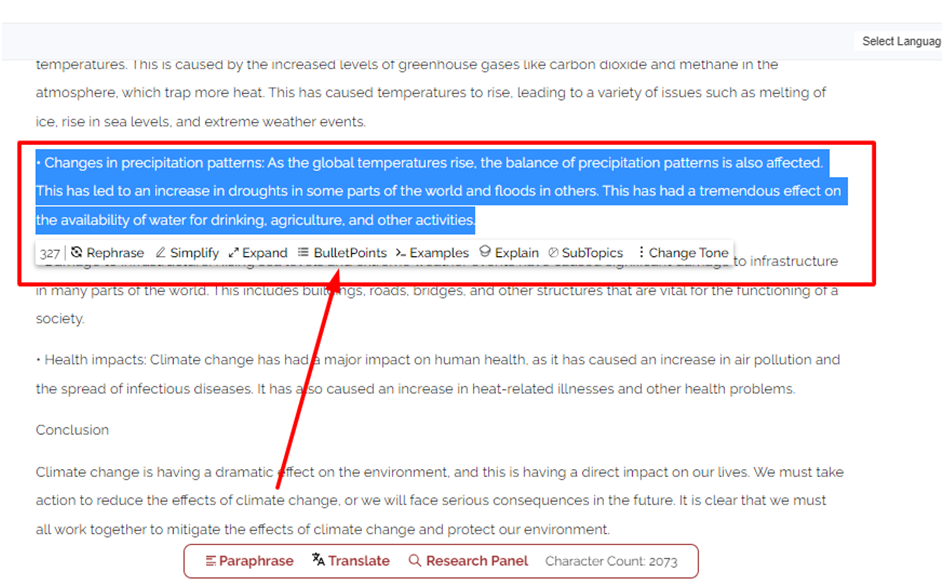 The AI Editor from Paraphrasingtool.ai is truly a multipurpose tool. It can create a story, an essay, or even a poem. Plus, if you're stuck for ideas, it can brainstorm with you. In short, the AI Editor is a versatile assistant, ready to tackle a wide range of writing tasks.
Pricing Plan
Paraphrasingtool.ai presents a variety of pricing options tailored to cater to different user needs.
For individual text generation tasks, they offer a Solo Text Generation plan at $15 per month for up to 25,000 words, with a cost-effective annual plan at $12 per month, billed yearly, allowing up to 300,000 words.
The Solo Paraphrasing Tool plan costs $7 per month with a 10,000 character limit per input (but unlimited paraphrasing), with the annual equivalent priced at $5 per month, billed yearly at $60.
Lastly, the comprehensive All-in-One Bundle offers an expansive set of tools at $20 per month, or at a reduced rate of $16 per month when billed annually, providing enhanced limits and features for heavy usage.
Wrap Up!
Paraphrasingtool.ai is revolutionizing the way students approach writing and academic tasks. With its paraphrasing tool, grammar checker, and plagiarism detector it provides an extensive solution for creating compelling essays, research papers, and more.
The unique AI Editor tool is especially useful for generating ideas, writing essays, and brainstorming, making it a versatile companion for any student. By providing a combination of innovative features, ease of use, and affordability, Paraphrasingtool.ai is enabling students to focus more on learning and less on the stress of writing.
I hope my review of Paraphrasingtool.ai provided you with a comprehensive understanding of the platform and addressed all your concerns about the tool. Don't hesitate to take advantage of its incredible features and see the benefits for yourself.