Prepostseo is an online toolkit that comes with different tools and utilities spanning from website management to content optimization.
Among others, one function that it serves is to provide a learning experience for students. It may be a bit difficult to see just how – but that is what we're going to be looking at in this post.
We're going to start off with what Prepostseo is, what tools it contains, and how it can be used as an effective learning platform for students.
What is Prepostseo and What Tools it Provides
Prepostseo is essentially an online platform that is home to over 95 different tools. The name of this platform, i.e., "Prepostseo," is actually a good representation of the tools it provides. It offers tools for "pre" SEO i.e., for content planning, writing, etc., and for "post" SEO i.e., for content optimization, site performance monitoring, etc.
It does deviate from the nomenclature a bit considering that it also provides some text generators and calculators – both of which have no role in SEO.
The offered tools are diverse, in a nutshell. To name the few main ones, here they are:
Writing and Education Tools:
Domain Tools:
Website Management Tools:
More Tools
Obviously, of all these categories and the tools that they contain, only a few are helpful for students. So, moving on, we will carry on our discussion with those.
How Can Prepostseo Act as a Learning Tool for Students?
Here are some of the main ways in which Prepostseo can act as a learning tool for students.
It can help students improve their grammar understanding
One of the main things that students can have difficulty learning (which can cause a lot of problems) is proper grammar. Thanks to the grammar checker that Prepostseo provides, students can work on improving their grammatical concepts and also work on the mistakes that they are mor prone to make in their content.
Here is what the grammar checker offered by PPS looks like: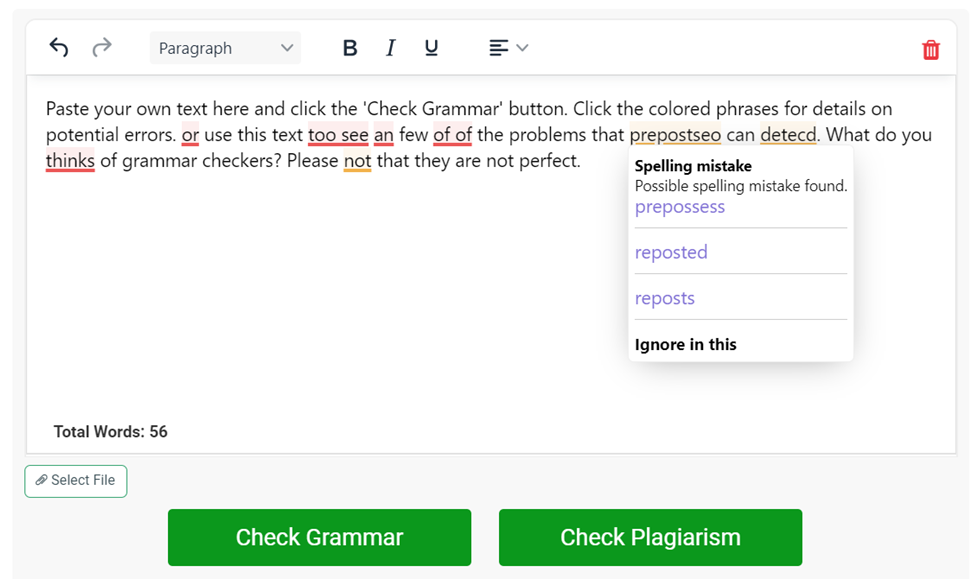 As you can see in the image above, all the errors are highlighted, and when they are clicked, the drop-down menu appears with the explanation and the correct suggestions.
By using this tool regularly on the content they write for assignments, etc., students can identify the grammatical elements they have trouble with. Plus, since the suggestions and explanations are provided, they will be able to actually understand those errors and avoid them in the future.
It can help students improve their writing skills
Another way in which Prepostseo can be a great learning tool for students is by helping them improve their writing skills in general.
Grammatical understanding is, in a way, also part of writing skills but there is a lot more to it.
For example, if you go to Prepostseo and you use the paraphrasing tool, you can make improvements to your own write-ups and simultaneously learn how to make them (the tool-driven improvements) yourself in future.
That is basically the angle that we're taking in this section. As far as improving writing skills go, we think that the paraphraser is the tool that plays the most direct part. To show you what we mean, here is a screenshot showing the paraphrasing tool improving a piece of given content.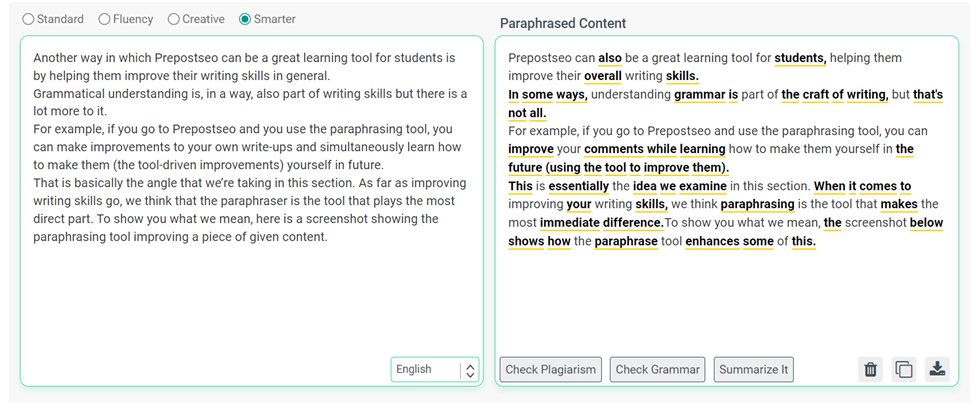 It can help students learn useful calculations
While there are among some of the underrated parts of the platform, there are a lot of different calculators and converters that you can find on Prepostseo. You can find them if you scroll right to the bottom of the homepage.
Some of the calculators that you can find here include:
Decimal to binary
Binary calculator
Sales tax calculator
And so on.
Now, the immediate benefit and use of these tools is that they allow students to take care of the calculations quickly to save time. But they can also be used in a learning capacity.
For one, students can check them if they want to confirm their answers. Plus, all the tools have some useful content published right under it that explains the working of the tool as well as the formula/mechanic behind the process. This can be highly beneficial for student's learning as it can equip them with the knowledge they need to do those calculations themselves in the future.
What are some of the main features of Prepostseo?
There are a lot more ways in which Prepostseo can be used as a learning tool for students. But since there are more than 90 different tools and so many ways to use them, we can't delve into all of that.
The stuff that we've mentioned above is basically a way to exemplify how Prepostseo is a learning platform for students. Now, we're going to talk about some of its main features to further enunciate that point.
1.     It is free to start
This is perhaps one of the best features of this platform. A lot of online toolkits and tools either have a paid-only program or a very limited free version. They basically force the users to pay and get a premium plan otherwise there's no use.
But that is not the case with Prepostseo. There is a lot that you can do with this tool even as a free member – which is what makes it great for students.
You can, to clarify, access and use all the tools for free. There are no "locked" tools that you can get only after subscribing to a paid plan. There are, however, limitations on certain tools that can only be removed by becoming a paid member.
2.     It is a user-friendly interface
Having a user-friendly interface is important for any software or online toolkit. And Prepostseo does it nicely.
There aren't too many labyrinthine menus that you have to navigate through to get to the tools you need. All of them are neatly listed and categorized on the home page.
The tools themselves also have a simple design with all the options and buttons visible. Using this tool is pretty easy – which is another reason that it is good for students.
3.     It comes with affordable pricing plans
Students typically aren't ones to spend a lot of money on online tools but Prepostseo makes that a bit easier. While there are premium-only features on some of the tools, the pricing plans in general are quite affordable.
Here is what they look like: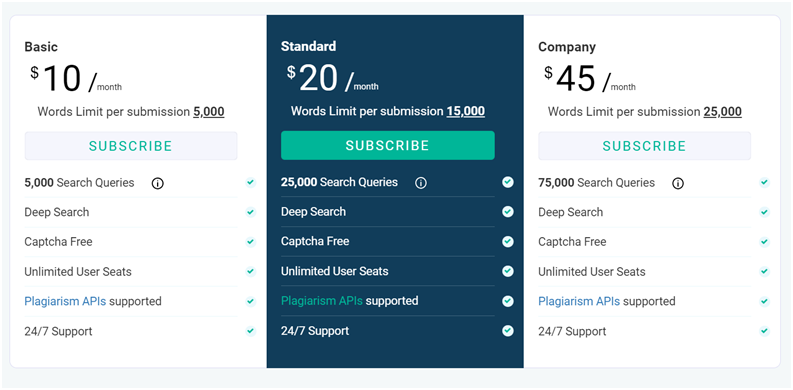 Final Thoughts
Prepostseo is a rare platform in that it provides a lot of different tools and utilities in one place without even initially charging for them. There are a lot of good features that it comes with, and it can be a highly useful learning tool for students.