Today in the U.S., soap operas rival traditional movies in terms of colossal budgets, star performers, and exciting scripts. They make shows about everything: historical events, technology, art… the list would be very long. TV series gather multimillion-dollar audiences all over the world.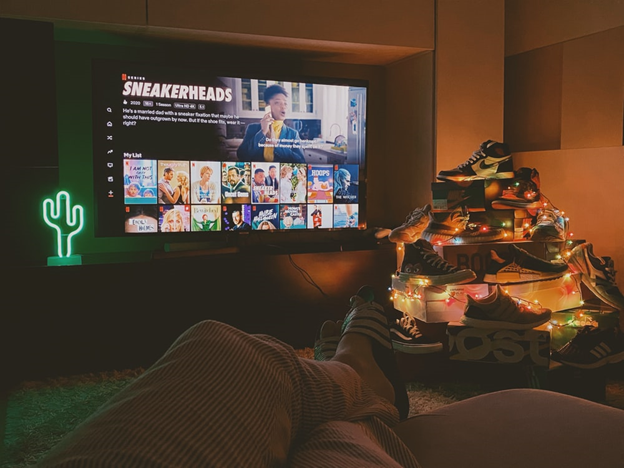 And since most of the good TV series are filmed in the USA, they are an added value for English language learners because you can learn real American English from them.  We have compiled a list of the most popular American soap operas that will be a great help for students of the English language and culture. Enjoying soap operas in the original language will help you better understand English speech by ear, expand your vocabulary (including slang), and improve your pronunciation.
What can I learn from popular American TV shows?
There are many regional accents in American English. The United States is a large country made up of different geographic areas, and each has a different version of English. Watch this short video about American accents and you'll see how different they are. And since popular TV series can take place in many different parts of the United States, TV series will give you an idea of what regional accents sound like.
Soap operas are like mirrors – they reflect the changes in American English with new words, new turns, and new slang. For example, all the new vocabulary from social media instantly seeps into the shows. You can learn to speak as Americans do by watching soap operas, and you can see how English is changing because of popular culture. There are always lots of references to music, famous artists, and other elements of the pop culture of the English-speaking world. You'll find plenty of examples of this below. You can easily find these shows on various streaming platforms. However, they may be blocked for certain regions. In that case, you can unblock US Netflix with VeePN for comfortable viewing. Furthermore, VPN will not only help you access any streaming but also provide you with cybersecurity.
Big budgets mean big opportunities, including educational ones. Popular American TV series are the most expensive in the world; sometimes they have more budget than any Hollywood movie. There is enough money for mind-blowing special effects, interesting plots, and star performers, all of which make soap operas very high-quality entertainment. What does this mean for those who study English? They will be able to fully immerse themselves in the exciting action, and this will help them memorize words and their pronunciation better.
The best American TV series for learning English:
`Stranger things`
Genre: sci-fi/horror
Why the series is useful: It's a great example of American science fiction, and it tells you a lot about America's recent past. Since most of the main characters are children, the language is not too complicated. Most importantly, it is a very high-quality show with a fascinating plot.
`Modern family`
Genre: comedy
Why the show is useful: The roles are played by actors of different ages and backgrounds, and each has his or her unique way of speaking. For example, Cam and Michael speak like typical members of the urban gay community, Gloria speaks English with a Colombian accent, and Hayley, as a teenager, uses a lot of online slang in her speech.
`Dear White People`
Genre: tragicomedy
Why the series is useful: You will learn a lot of useful things if you are going to go to an American university. The characters speak in a variety of American accents, but the dominant language is that of the African-American community. The life of a typical American university is portrayed very accurately, especially its political component.
`American Horror Story` 
Genre: horror 
What's Useful About the Series: All of the storylines have a historical basis. For example, the fourth season is set in 1952, the time of the decline of the circus arts in the United States. The fifth season is set in contemporary Los Angeles, but the story begins in the 1920s.
`The Get Down`
Genre: musical drama
Why the show is useful: Most of the shows we've already mentioned are about the lives of the affluent classes of American society. This series is about those struggling to survive in the Bronx, where there is a mix of ethnicities and where a uniquely energetic version of English is spoken. It's English that hip-hop fans will easily recognize.
`Rick and Morty`
Genre: comedy/science fiction/animation
Why the series is useful: It's a real guide to modern American humor. The various scientific theories and terms are almost all fictional, so it's not worth learning the language of science and technology from it. You need at least intermediate English to understand the show.
`Westworld` 
Genre: fiction
 What's Useful About the Series: The characters' English pronunciations vary widely. Most of the robots speak with a Southern accent, while park guests and the administration use standard American or British English.
`The Handmaid`s Tale` 
Genre: dystopia
How the series is useful: The basis for the series was a novel by the famous Canadian writer Margaret Atwood. After the series was released, the book went through the second wave of popularity. Watching the series will help you better understand the social and political debates going on in today's English-speaking world.
It has been observed that many of those who speak a foreign language perfectly well, without being native speakers, watch soap operas in the original language. Of the foreigners in the world, Scandinavians and Dutch speakers speak English best, almost as well as native speakers from Great Britain, the United States, Australia, and other English-speaking countries. Ask them why their English is so good, and they'll tell you it's not because they studied hard at English.
Learn English with pleasure!