In the fast-paced digital age, staying productive and efficient in your writing endeavors is more important than ever. With countless distractions and ever-growing demand for content, writers can find it challenging to stay focused and maintain a consistent output. Fortunately, a wide array of writing productivity tools is available to help streamline their writing process, boost their efficiency, and keep them on track.
In this article, we will go over different types of optimization tools and find out how they help a writer stay productive. We will look at writing tools, paraphrasers, and image-to-text converters. By the end of this post, you will have learned about some great freemium tools that will help you to write better and faster.
Writing Productivity Tools
We will not be discussing generic tools, instead, we will list specific tools that you can use for improving your productivity. So, let's start.
Editpad is an online toolkit that provides a litany of content optimization tools. However, in this article, we will only check out its online text editor (a.k.a Editpad).
The text editor is completely free and requires neither payment nor an account to use. Users will find that they can start using this tool by navigating to the relevant page.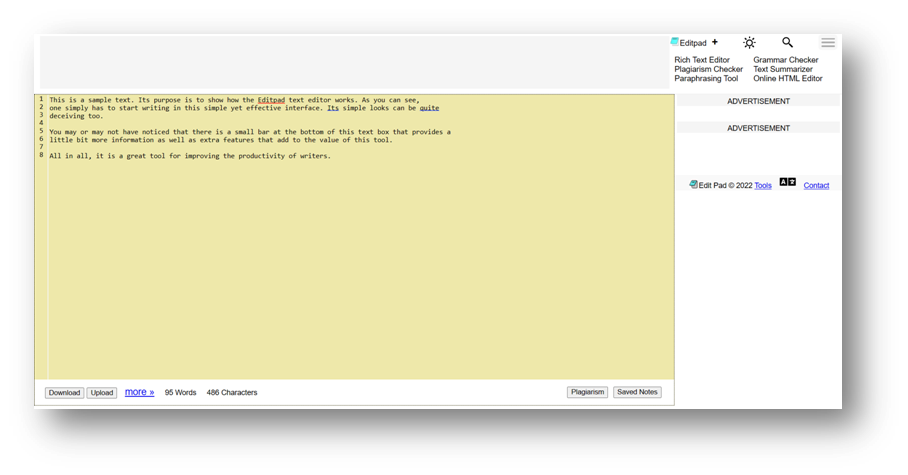 So, how does this online text editor help writers stay productive? Well, for starters, it provides a lot of benefits that many online text editors do. Some of them are as follows:
Easy accessibility
Autosaving
Integration with other tools
Easy accessibility is due to the free nature of the tool. It is further enhanced by not requiring registration. Autosaving is a standard feature in any online writing tool, so, its presence was expected. If you check out the "more" button, you will find there is an integration with the paraphrasing tool of Editpad. There is also a plagiarism checker integration available to ensure that your writing is unique.

Due to the easy access, and autosaving features, writers can start working on writing anytime they feel like it. Since Editpad is online, it can be accessed from any device anywhere. Meaning writers can work on their commute, and even outside of working hours if the inspiration strikes.
Other features of Editpad are as follows:
Word and character count
File downloading option
File uploading option
These features further supplement the productivity of writers by helping them to upload an unfinished document to Editpad and work on it online whenever they find the time. They can download the final manuscript after completing it online.
Pricing
While Editpad as a platform does have premium plans, the text editor is completely free and does not have a paid version.
Pros:
Simple and intuitive UI
Easy to use
No blocked or locked features
Cons:
Paraphraser is yet another platform that provides content optimization tools. In this article, we will discuss the one tool that it is named after; the paraphraser (a.k.a. paraphrasing tool).
This paraphrasing tool is freemium, meaning it has a few paywalled features. Users cannot access them unless they have paid for a premium plan.
To make it clear what the paid and free features are, here is a table that shows their details.
| | | | |
| --- | --- | --- | --- |
| Available Modes | Free/Paid | Word Limit (Free) | Word Limit (Paid) |
| Fluency | Free | 600 | 1,500 |
| Standard | Free | 600 | 1,500 |
| Word Changer | Free | 2,000 | 5,000 |
| Creative | Paid | N/A | 1,500 |
| Smarter | Paid | N/A | 1,500 |
| Shorten | Paid | N/A | 1,500 |
Here is a short breakdown of each mode.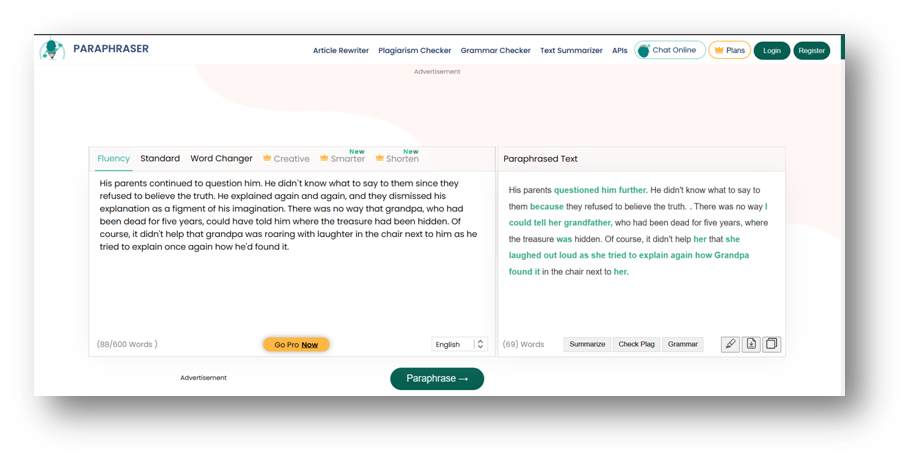 Fluency mode makes any written work smoother and easier to read. It changes the words and sentence structure to remove any parts that are difficult to understand. It helps writers to efficiently edit their work.
Standard mode does not do anything elaborate like Fluency mode. It makes some random word and phrase changes throughout the text and makes it noticeably different than the original version.
Word Changer is exactly what its name suggests. It changes words in the text by replacing them with their synonyms. It is quite useful for writers who rely on crutch words. They can be more productive by writing as they usually do and running their content through this mode afterward.
Creative mode is a premium mode that changes the text in different ways. The best way to describe is that it is similar to Fluency mode, but it makes more changes.
Smarter mode is very similar to Creative. The difference is that it changes completely different parts of the text compared to Creative.
Shorten mode creates abstractive summaries. An abstractive summary is one in which the content is also paraphrased. Very useful when writers want to shorten their work if stretches a bit too long.
The output of all the modes can be edited a little bit by clicking the colored text. This opens a list of synonyms that you can add to the text in place of the selected colored word.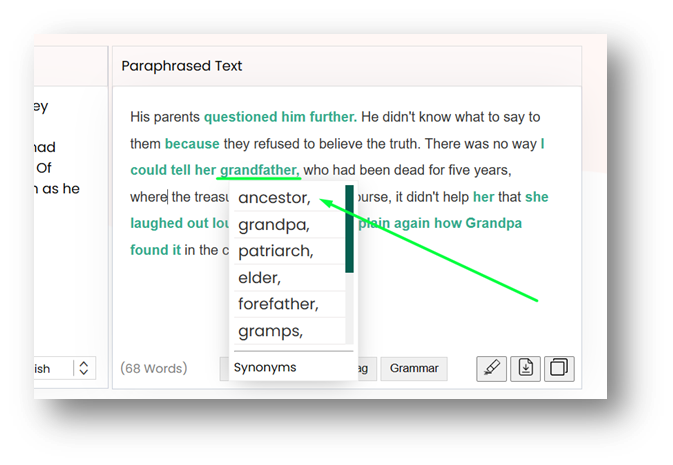 Pricing
There are three pricing plans and they all offer the same things. The only difference between each plan is the amount of time it is applied. They are as follows.
Weekly Plan at $7/week.
Monthly Plan at $20/month.
Yearly Plan at $150/year (365 days).
Pros:
Works in 15+ languages
Integration with other tools
Editable output
Saving and downloading supported
Cons:
A bit too limiting concerning word count in the free version
Image-to-text is a nifty tool for writers. Think about it yourself; you took a picture of some text because of a shortage of time. Later on, you had to transcribe that text by hand. What if you could use a tool to shorten that process by a large margin? That's what image-to-text does for you.
All a writer needs to do is input the image with text into the tool, and the tool will extract all of the text and convert it into a word processor format like DOC, DOCX, or TXT. Take this example below. The following image contains some random text. We want this text to be extracted.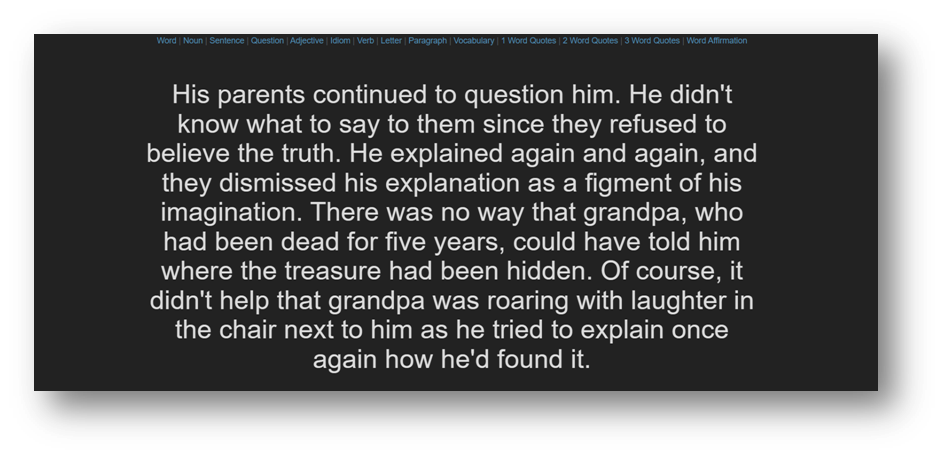 So, we input it into the Image To Text.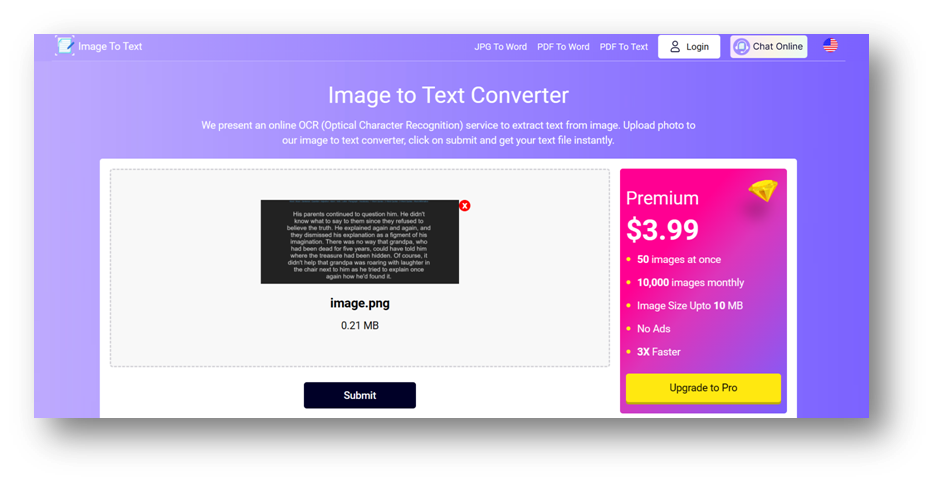 We got our output and it only took a few seconds in the image to text conversion process.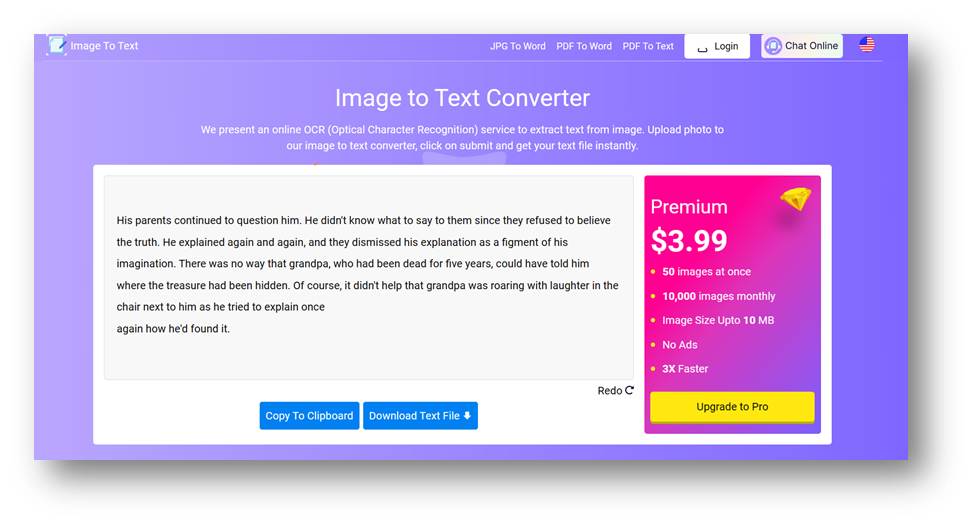 This output can be copied directly or downloaded as a text file in one of the aforementioned file formats. This is great for productivity as writers can save valuable time.
Pricing
There are three premium plans, their details are given below.
This output can be copied directly or downloaded as a text file in one of the aforementioned file formats. This is great for productivity as writers can save valuable time.
Pricing
There are three premium plans, their details are given below.
| | | | |
| --- | --- | --- | --- |
|   | Weekly | Monthly | Yearly |
| Price | $6.99/week | $14.99/month | $6.5/month |
| Validity | 7 days | 30 days | 365 days |
| Total Number Inputs | 3000 images | 10,000 images | 120,000 images |
This output can be copied directly or downloaded as a text file in one of the aforementioned file formats. This is great for productivity as writers can save valuable time.
Pros:
No account is required for free users
Intuitive user interface
Accurate text extraction from images
Can extract handwriting as well
Can take online images as input using their URL
Cons:
No integrations with other tools
Conclusion
These are just three tools for boosting your writing productivity. The good thing about these tools is that you can use them in synergy with each other. You can write your content in Editpad, and make changes to it with Paraphraser. Similarly, any text extracted with image-to-text can be altered with Paraphraser, or added to an existing write-up in Editpad.
Many other tools can improve a writer's productivity. The trick is to keep an open mind and try out new tools every now and then. This will help you to find even more things to boost your productivity.