Informal letter inviting a friend to go on vacation with you
Write a letter to a friend inviting him or her to go on a vacation with you.
Informal letter sample
---
Informal letters are those letters that we send to our friends and family. The kind of vocabulary used in an informal letter is somewhat different from the one used in a formal letter. For example, in informal letters slang expressions and idioms are common. Contracted verb forms and even sentence fragments are considered appropriate in personal or informal letters.
There are no hard and fast rules about how to write an informal letter. However, if you need assistance, you may review a few informal letter samples.
Here is a sample informal letter between friends.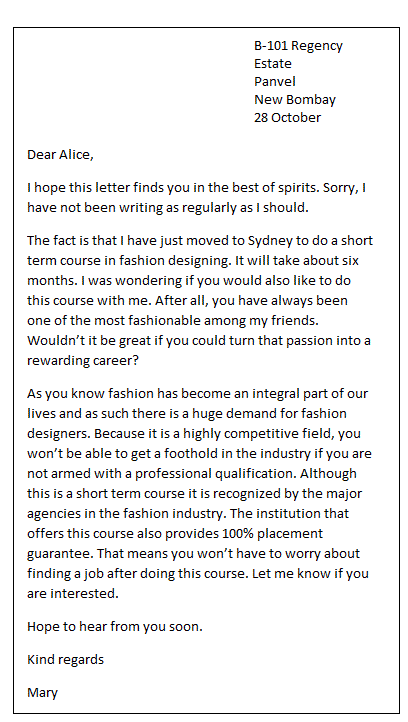 ---
Sections in this article
How to write a cover letter
How important are cover letters?
Cover letter writing and formatting tips
Are cover letters necessary?
Cover letter sample 1
Cover letter sample 2
Resume writing
Formal letter writing
Introduction
Address and date
Salutation
Body of the letter
Subscription or leave-taking
The Tone and Language of a Letter
Personal Letter Writing Tips
Envelope
Example of formal letter and envelope
Formal Letter Sample 2
Sections in this article
Exclamations
Exclamations exercise
Exclamations: common errors
Common mistakes with pronouns - Part 2
Common errors with adjectives - part 1
Common errors with adjectives - part 2