Letters to the Editor
Most newspapers publish letters from their readers. By writing a letter to an editor, you can not only voice your opinion, but also bring to public attention issues that are close to your heart. Letters published in newspapers often prompt authorities to take the necessary action. They may also encourage other readers to respond. Here is a sample letter on the topic of reckless driving.
Subject
Write a letter to the editor of a newspaper about the harmful effects of reckless driving. In your letter you have to explain why reckless driving poses great danger to lives and property.
Sample letter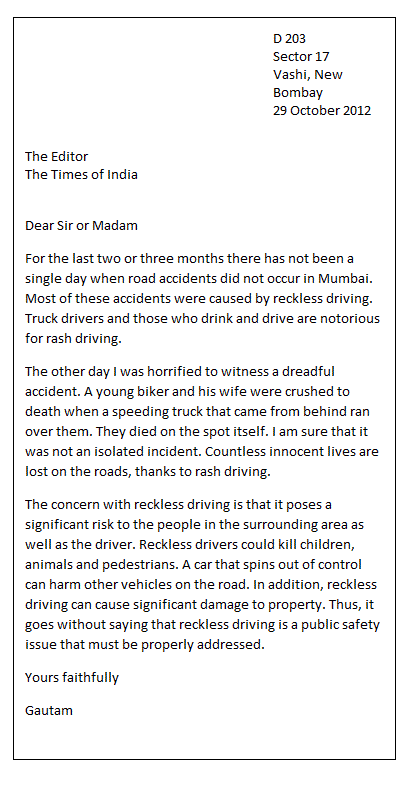 Sections in this article
Letters to Editor - sample 1
Letters to Editor - sample 2
Letters to Editor - sample 3
Formal letter writing
Introduction
Address and date
Salutation
Body of the letter
Subscription or leave-taking
The Tone and Language of a Letter
Personal Letter Writing Tips
Envelope
Example of formal letter and envelope
Formal Letter Sample 2
Sections in this article
Exclamations
Exclamations exercise
Exclamations: common errors
Common mistakes with pronouns - Part 2
Common errors with adjectives - part 1
Common errors with adjectives - part 2