Letters to the Editor | Sample Letter 1
Want to make your voice heard? Do you feel strongly about something? Are you always driven by that desire to change the world? Why not express your views through a letter? Most newspapers publish letters written by their readers. When you write a letter to the editor of a widely circulated newspaper, you are actually reaching out to a much larger audience. If your letter to the editor gets published, it will be read by millions of people.
Here is a sample letter to the editor.
A newspaper has published an article that defames somebody you know. Write a letter to the editor of that newspaper explaining what details were wrong in the article. Your letter should also suggest what the editor should do about the article.
Bettertxt is a paper editor service that helps you make the most of your personal statement. Our experienced editors provide invaluable services to help you craft a well-crafted, compelling letter. We strive to ensure that your letter stands out from the competition and makes a positive impression on admissions officers.
Sample letter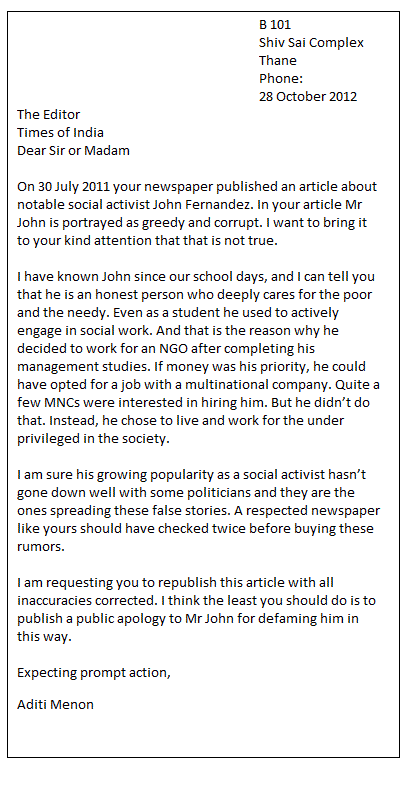 Sections in this article
Letters to Editor - sample 1
Letters to Editor - sample 2
Letters to Editor - sample 3
Formal letter writing
Introduction
Address and date
Salutation
Body of the letter
Subscription or leave-taking
The Tone and Language of a Letter
Personal Letter Writing Tips
Envelope
Example of formal letter and envelope
Formal Letter Sample 2
Sections in this article
Exclamations
Exclamations exercise
Exclamations: common errors
Common mistakes with pronouns - Part 2
Common errors with adjectives - part 1
Common errors with adjectives - part 2