Formal letter sample | Sample resignation letter
Format of a letter of resignation
A letter of resignation has the following format.
Put today's date at the top of the letter on the left side.
Put the name and address of the person you are writing to on the left side of the page, directly under the date.
Begin the letter on the left. A letter of resignation is usually addressed to the manager. Write Dear Manager or Dear Sir or Dear Madam. After Dear X, put a comma or nothing at all. In American English, a colon (:) is preferred in business letters.
Leave an empty line after Dear X and start again on the left.
Finish the letter with Sincerely or Yours sincerely.
Sign with your full name. Write your full name after your handwritten signature.
Here is a sample letter of resignation that can be used in any circumstances.
Sample resignation letter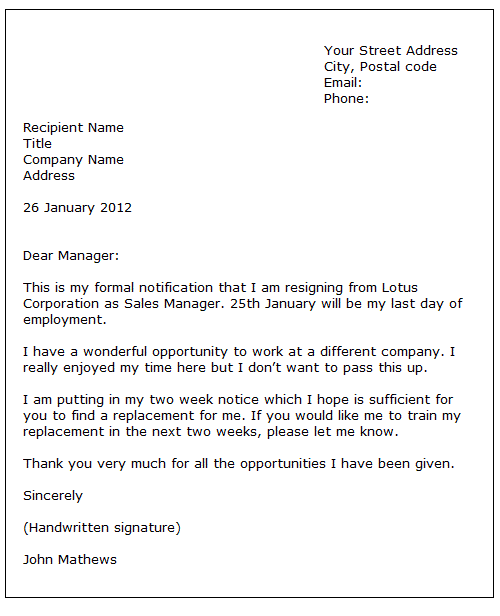 Sections in this article
Acceptance letter sample
Business letter writing tips
How to Write an Apology Letter
Business Apology Letter Sample I
Personal Apology Letter Sample I
Email writing tips
Resume writing
How to write a cover letter
How to write a letter of enquiry
Standard phrases used in formal letters
Formal letter writing
Introduction
Address and date
Salutation
Body of the letter
Subscription or leave-taking
The Tone and Language of a Letter
Personal Letter Writing Tips
Envelope
Example of formal letter and envelope
Formal Letter Sample 2
Sections in this article
Exclamations
Exclamations exercise
Exclamations: common errors
Common mistakes with pronouns - Part 2
Common errors with adjectives - part 1
Common errors with adjectives - part 2