CBSE Class 10 English Model Questions | Concept Chart
Study the concept chart from the sports magazine section of a monthly publication.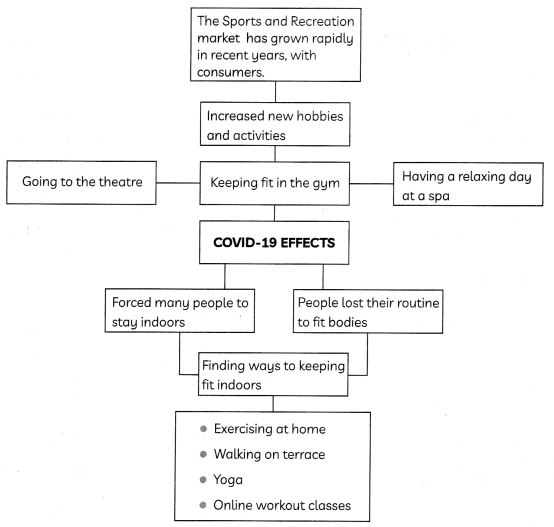 Write a paragraph in not more than 120 words, analysing the listed situations due to the global pandemic.
Model answer
Thanks to greater consumer interest, the sports and recreation market had grown considerably over the last few years before the Covid 19 pandemic hit the world. People showed tremendous interest in new hobbies and activities. They enjoyed going to the theatre or visiting a spa for relaxation. A lot of them also went to the gym regularly to keep themselves fit. The pandemic completely changed the situation. It forced people to stay at home and thus prevented them from enjoying any outdoor sports or recreational activities. Businesses providing sports and recreational facilities were the worst hit by this development. People became bored and unhappy about the disruption to their fitness routine. On the bright side, Covid 19 also encouraged people to find ways to keep themselves fit while staying indoors. Many started exercising at home. They do yoga, walk on their terrace or attend online workout classes.