Apology Letter Sample
So you have missed an appointment and you want to apologize. Here are some sample apology letters that you can use as an outline for drafting your own apology letters.
Appointment letter sample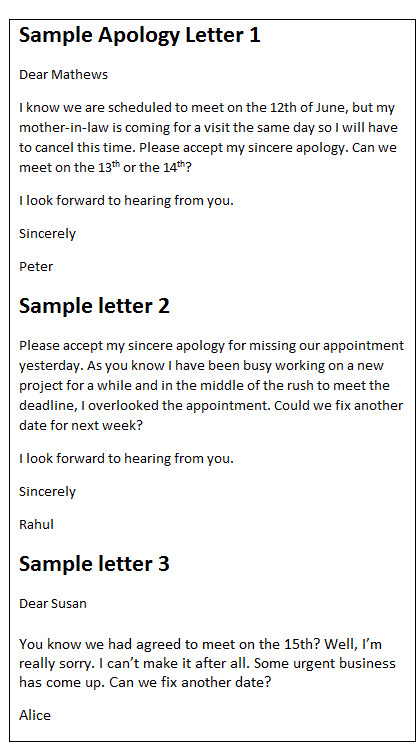 Useful phrases for cancelling an appointment
I am sorry that I must cancel my appointment to see you on ….
Please accept my sincere apology for missing our appointment yesterday.
Due to conflicting schedules I will not be able to attend the conference planned for this Friday.
Sections in this article
Letters to Editor - sample 1
Letters to Editor - sample 2
Letters to Editor - sample 3
Formal letter writing
Introduction
Address and date
Salutation
Body of the letter
Subscription or leave-taking
The Tone and Language of a Letter
Personal Letter Writing Tips
Envelope
Example of formal letter and envelope
Formal Letter Sample 2
Sections in this article
Exclamations
Exclamations exercise
Exclamations: common errors
Common mistakes with pronouns - Part 2
Common errors with adjectives - part 1
Common errors with adjectives - part 2