Class 10 Letter Writing Samples | Informal Letter To Brother
The most common salutation used in letters to one's family members is 'My Dear (name)'. Note that in informal letters, we address people by their first names. Surnames are not used. Here is a sample informal letter.
Task
Your brother was caught cheating on a test. The news has caused a lot of distress to you. Write a letter to him expressing your concerns and explaining why such malpractices will ultimately ruin his life.
Here is a sample response.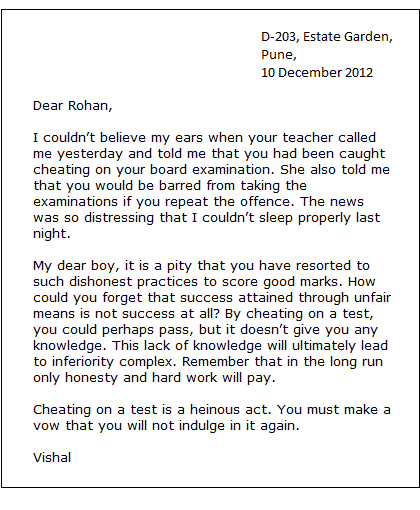 ---
Sections in this article
How to write a cover letter
How important are cover letters?
Cover letter writing and formatting tips
Are cover letters necessary?
Cover letter sample 1
Cover letter sample 2
Resume writing
Formal letter writing
Introduction
Address and date
Salutation
Body of the letter
Subscription or leave-taking
The Tone and Language of a Letter
Personal Letter Writing Tips
Envelope
Example of formal letter and envelope
Formal Letter Sample 2
Sections in this article
Exclamations
Exclamations exercise
Exclamations: common errors
Common mistakes with pronouns - Part 2
Common errors with adjectives - part 1
Common errors with adjectives - part 2