Employee dismissal letter sample
Writing a dismissal letter is not a pleasant experience. This can be particularly difficult for an employer who has known his/her employees for years. However, business is business and sometimes removing an employee from your payroll is essential to protect your business interests.
While writing a dismissal letter, pay careful attention to your choice of words. Maintain a cordial letter throughout the letter and avoid name calling. Clearly state the circumstances that led to dismissal of the employee. Before closing the letter do not forget to wish them all the best.
Here is a sample dismissal letter that you can use as an outline for drafting your own dismissal letters.
Employee dismissal letter sample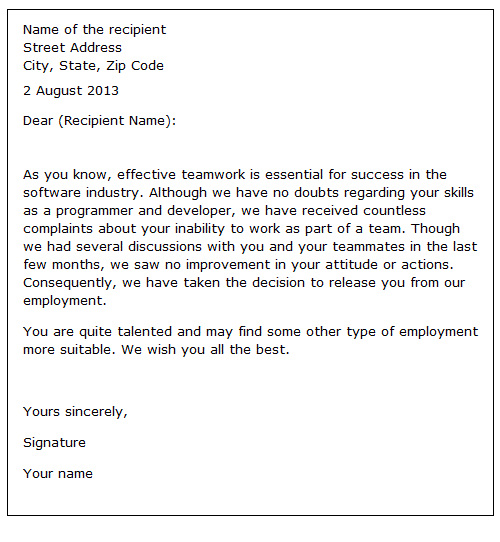 Sections in this article
Introduction
What is an email
Subject line
Formats, grammar and spelling
Attachments
Signature
Addresses and personal names
Replies
Courtesy and politeness
Privacy concerns

Letter writing: formal and informal
Introduction
Address and date
Salutation
Body of the letter
Subscription or leave-taking
The Tone and Language of a Letter
Personal Letter Writing Tips
Envelope
Example of formal letter and envelope
Formal Letter Sample 2
Formal letter sample 3
Formal letter sample 4
Formal letter writing basics
Standard phrases used in formal letters
Example of informal letter and envelope
Informal Letter Sample 2
Informal Letter Sample 3
Informal Letter Sample 4